Local High School Students to Compete In 2019 Statewide Mock Trial Competition
Posted on January 28th, 2019 at 9:48 AM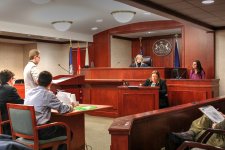 Erie, PA | January 28, 2019 — The Erie County Bar Association announces the start of district competitions for the Statewide High School Mock Trial Championships on Tuesday, January 29 and Wednesday, January 30 at the Erie County Courthouse. Conneaut Area Senior High School, Cranberry Area Senior High School, Fort LeBoeuf High School, Grove City High School, McDowell High School, Meadville Area Senior High School, Northwest Pennsylvania Collegiate Academy, Northwestern High School, Sheffield Area Senior High School, and Youngsville High School will be participating in the local competition.

These schools are among the nearly 300 high school teams from across Pennsylvania that are participating in this year's competition. Pennsylvania's mock trial program is one of the largest in the nation.

Sponsored statewide by the Pennsylvania Bar Association Young Lawyers Division, the mock trial competition gives eight-member student teams the opportunity to argue both sides of a case in an actual courtroom before a judge. The students, who play the roles of lawyers, witnesses, plaintiffs, and defendants, are assisted by teacher coaches and lawyer advisors in preparing for competition. Erie County Bar Association members volunteer to serve as jurors and judges in the trials. The juries determine the winners in each trial based on the teams' abilities to prepare their cases, present arguments, and follow court rules.

This year's hypothetical case, Commonwealth of Pennsylvania v. Rae Shafer, is a criminal case to determine whether the defendant is guilty of illegal prescribing that lead to death.

Statewide district level competitions will continue throughout February 15, 2019, with 14 teams eventually advancing to the PBA Statewide Mock Trial Championships, March 29 and 30 in Harrisburg. The Pennsylvania Bar Foundation, the charitable affiliate of the Pennsylvania Bar Association, is providing funding support so that the state finals can be broadcast.

The winner of the state championship will represent Pennsylvania at the national mock trial finals to be held May 16 – 18 in Athens, GA.

For more information on the 2019 PBA Statewide Mock Trial Championships and to read this year's case, visit the Events and Education dropdown on the PBA website at http://www.pabar.org

Founded in 1895, the Pennsylvania Bar Association strives to promote justice, professional excellence and respect for the law; improve public understanding of the legal system; facilitate access to legal services; and serve the 27,000 lawyers who are members of the association.

The Erie County Bar Association is a not-for-profit professional association whose members are attorneys and judges in Erie County, Pennsylvania. The ECBA assists members in the practice of law by providing educational opportunities, programs, and services to facilitate the practice of law. The association also provides assistance to the public, particularly through its Lawyer Referral and Information Service.