Erie Law Foundation Accepting Applications For 2018 Roberts Scholarship
Posted on May 3rd, 2018 at 1:10 PM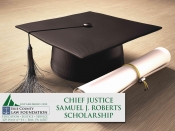 The Erie County Law Foundation is now accepting applications for the Chief Justice Samuel J. Roberts Scholarship until May 31, 2018. The scholarship is available to a resident of Erie County, Pennsylvania, who will be attending his/her first year at an ABA-accredited law school.
The namesake of the scholarship, Samuel J. Roberts, was born in Brooklyn, New York, but raised and educated in Erie. Roberts graduated with honors from the University of Pennsylvania's Wharton School of Finance in 1928, and from the law school, Penn Law, in 1931. His legal practice in Erie included service as Assistant District Attorney and President Judge of the Orphans' Court. In 1962, he was elected to the Pennsylvania Supreme Court where he began a 21-year term, first as Associate Justice, and eventually as Chief Justice. Many of the 2400 opinions written by Chief Justice Roberts are still to this day highly regarded as landmark decisions.
Interested applicants should complete the online application as well as an authorization and release form. Hard copies of these documents may be requested from the Erie County Bar Association. The Scholarship Committee will review all applications, making its decisions based on established criteria, focusing primarily on financial need, academic achievement, and the applicant's career statement. The Scholarship Committee includes numerous Erie County Bar Foundation Trustees, Bar Association members, former Scholarship recipients, and laypeople.
Visit www.eriebar.com/foundation-roberts-scholarship for complete details, including application forms.
Formed in 1989, the Erie County Law Foundation is a public nonprofit 501(c)(3) corporation. Its purposes include, but are not limited to, promoting education, granting scholarships, and providing legal services to the poor. The Erie County Bar Association is a not-for-profit professional association whose members are attorneys and judges in Erie County, Pennsylvania. The ECBA assists members in the practice of law by providing educational opportunities, programs, and services to facilitate the practice of law. The association also provides assistance to the public, particularly through its Lawyer Referral and Information Service.