ECBA to Host 2019 Wills for Heroes Event
Posted on September 16th, 2019 at 2:15 PM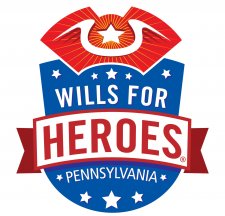 The Erie County Bar Association (ECBA) and the Erie County Law Foundation are proud to again offer a Wills for Heroes event, this year on Saturday, October 12, 2019, for first responders and military veterans in Erie County. The event, to be held in The Will J. Schaaf & Mary B. Schaaf Education Center (429 W. 6th Street, Erie, PA 16507), assists first responders and military veterans by ensuring that their legal affairs are in order should tragedy ever strike.

Attorneys with the Erie County Bar Association will be volunteering to meet individually with first responders and military veterans to prepare the documents for registered participants.

Please note the 2019 event is FULL. We are currently working on a waiting list for the 2020 event.

Individuals without an appointment cannot be accommodated on the day of the event. Appointments are limited and are filled on a first-come, first-served basis. The first appointment of the day is at 10:00 a.m., and the final appointment is at 2:00 p.m.

• Proof of residency in Pennsylvania will be required at the event (e.g., driver's license, passport, etc.)
• Confirmation of your status as a first responder or military veteran will also be required
• Appointments for each person last approximately 1 hour
• If you register with a spouse/partner, you will be automatically scheduled for back-to-back appointments
• At the conclusion of your session, you will have notarized legal documents:
Will, Living Will, and Health Care and Financial Powers of Attorney (or any combination thereof)

For more information:
Erie County Bar Association (ECBA): www.eriebar.com/wfh
Sandra Brydon Smith, ECBA Executive Director, 814-459-3111 or sbsmith@eriebar.com
Wills for Heroes Foundation: www.willsforheroes.org

*If your estate exceeds $750,000, this service is unavailable to you due to the complexity of your estate and the limited time to complete the legal documents. For determining if your estate is over $750,000, include your cash, personal property, stock and bonds, real estate equity, savings, cash value of a whole/universal life insurance policy only (not the amount of the insurance policy or death benefit).

If you are not eligible for Wills for Heroes, contact the ECBA's Lawyer Referral & Information Service at 814-459-4411 to be referred to a private attorney.