ECBA Recognized for Historic Preservation Efforts
Posted on April 30th, 2018 at 2:40 PM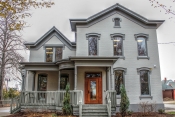 The Erie County Bar Association has earned one of the 2018 Greater Erie Awards from Preservation Erie, an organization whose mission is to "promote, preserve, and enhance the distinctive character of greater Erie through community-based planning, design, and historic preservation."
The Bar Association's preservation effort on Millionaire's Row, which includes the Oliver Elliot House and adjacent William Brooks House, was recognized at an awards presentation held at JR's Last Laugh on Wednesday, April 25, 2018. The award was accepted on behalf of the ECBA by Past President and Chair of the Headquarters Committee, Attorney Rich Lanzillo.
In October of 2017, the Erie County Bar Association moved its headquarters to 429 W. 6th Street while donating 437 W. 6th Street to local developer Hoffman United. A few months later, renovations began on the Oliver Elliot Carriage House, which will be transformed into the ECBA's education and meeting center. Those renovations are scheduled to be completed by early summer 2018.