ECBA Members Recognized By Pennsylvania Legal Aid Network
Posted on August 26th, 2019 at 8:38 AM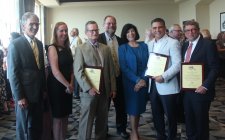 Civil Legal Aid Attorney of the Year 2019

David A. Baxter, Esquire, is the 2019 Civil Legal Aid Attorney of the Year. Attorney Baxter obtained both his undergraduate degree and JD from the University of Pittsburgh. Prior to joining Northwestern Legal Services, Attorney Baxter was a law clerk and then opened his own law practice. In 1988, he accepted the position of Pro Bono Coordinator for the Erie County Bar Association's Legal Aid Volunteer Attorneys Program (LAVA), operated in cooperation with Northwestern Legal Services. In 1997, he became a full-time member of Northwestern Legal Services attorney staff, providing telephone advice and brief services to low-income individuals in addition to managing the LAVA program. It's noteworthy that each year the Erie County Bar Association President may, at her or his discretion, choose one member to recognize for her or his work on behalf of the Association that year. In 2003, Russell Warner presented his President's Award to Attorney Baxter for his years of service to Erie's indigent community. Attorney Baxter is very involved in the community and an active member of the Erie Philharmonic Chorus and the Episcopal Cathedral of St. Paul Choir where he is recognized and appreciated as a perfect tenor.

This year marks the 15th year for the Civil Legal Aid Attorney of the Year Award, given to a legal services attorney or court official selected by the PBA Legal Services to the Public Committee in recognition of exceptional contributions to improving civil legal aid in the commonwealth.

2019 Chief Justice Ronald D. Castille Award

Honorable John J. Trucilla is the recipient of the 2019 Chief Justice Ronald D. Castille Award. President Judge Trucilla is the President Judge of the Erie County Court of Common Pleas. First elected in 2001, he has been serving as the President Judge since 2016. President Judge Trucilla obtained a bachelor's degree in Political Science from the University of Dayton and his JD from the University's Law School in 1985. He began his extensive legal career as a judicial law clerk followed by several years spent in the Erie County District Attorney's office and 11 years in the US Attorney's Office for the Western District of PA. President Judge Trucilla is very active in the Erie Community. Among those many commitments is serving as an 'adjunct lecturer" at Gannon University where he teaches Criminal Law & Procedure. Judge Trucilla has introduced numerous successful Court programs including "Juveniles on the Run for Success," the "Flipside" initiative to deter youth gun violence, and the "Courthouse Comfort Canines" program that invites certified therapy dogs into the Courthouse to benefit dependent children facing a dependency hearing in Family Court.

The Judges Award, now in its 15th year, is named the Chief Justice Ronald D. Castille Award in honor of the retired former Chief Justice and is presented to the President Judge in recognition of his efforts, and those of his Court, to make access to justice for the neediest among us a reality in Erie County.

Jeffrey A. Ernico Award

Gregory L. Heidt, Esquire is the recipient of The Jeffrey A. Ernico Award which celebrates the pro bono accomplishments of its Harrisburg attorney namesake for his long-standing commitment to equal justice and serving those who had nowhere else to turn. The Ernico Award is an occasional award of the PBA Legal Services to the Public Committee that is to be given to such individuals and groups as the committee, from time to time, determines have provided unique service that has resulted in significant improvement in the provision of legal services to the neediest among us. Attorney Heidt has provided just such service over a long and illustrious career. He attended Washington & Jefferson College followed by University of Toledo College of Law where he received his JD and was admitted to practice in PA in 1975. Early in his legal career, Attorney Heidt worked for several years as in-house counsel for a local bank known at that time as Security Peoples Trust Company. After that, he was a staff attorney in Erie's Public Defender's Office for 5 years – demonstrating that his commitment to serving and supporting the indigent of Erie County has long been a matter of course in his practice and his life. Attorney Heidt has always been an active member of the Erie County Bar Association and its Legal Aid Volunteer Attorneys (LAVA) program. He was recognized for his pro bono service at the Erie County Bar's Annual Law Day event in 2000 by being presented with that year's Pro Bono Award. More recently, over the past 10 years, Attorney Heidt has conducted more than 20 pro se clinics for Northwestern Legal Services, amounting to 115 pro bono cases. He never turns down NWLS or LAVA when asked for his help.
Additional Photos