Ask-a-Lawyer Helpline, April 6 through 9
Posted on April 2nd, 2020 at 9:11 AM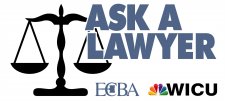 The Erie County Bar Association is hosting an ECBA COVID-19 'Ask-a-Lawyer' Helpline through Thursday, April 9th. The goal of the Helpline is to respond to individual and business concerns about bankruptcy due to the COVID-19 restrictions in place for our community safety. The program is a call-in format (814-459-3111) with participating volunteer lawyers from the ECBA answering calls remotely. The initial call is provided at no cost and will be offered from 8:30 a.m. – 3:00 p.m.

After the initial call, if further assistance is needed, individuals and business owners may be referred back to the ECBA's Lawyer Referral & Information Service for connection to an attorney if needed.

The ECBA 'Ask-a-Lawyer' Helpline is one way in which to give back to our community during this very stressful time.