Bradley K. Enterline Starts Term as Erie County Bar Association President
Posted on February 28th, 2019 at 2:14 PM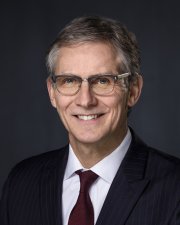 Erie, PA | February 28, 2019 — Attorney Bradley K. Enterline of Carney & Good took over duties as President of the Erie County Bar Association, effective January 1, 2019. Enterline, a graduate of McDowell High School, Ithaca College, and Vermont Law School, is keenly focused on the year ahead.

One of his objectives for 2019 is providing law-related information to interested groups, organizations, and high school students. This is a free community service of the ECBA. The topics are endless, but a few examples include the importance of the Rule of Law, information needed in order to make an informed personal decision such as whether to have a Will or not, the pros/cons of deeding your home to a family member, and legal issues currently in the news.

Further information and education about legal topics will be accomplished through the Erie County Bar Association website and social media outlets such as Facebook, Twitter, and Instagram.

Attorney Enterline is an active member of the Pennsylvania Bar Association and its Collaborative Law Committee and Alternative Dispute Resolution Committee. Believing strongly in alternative way to resolve disputes other than litigation, he has also served as the Past President of the Collaborative Professionals of Northwest PA, as well as holding membership in the International Academy of Collaborative Professionals, Association on Conflict Resolution.

Attorney Enterline's activities aren't limited to just the legal community. He is a member of Lakewood United Methodist Church and Kairos Prison Ministry, an organization whose mission is "to share the transforming love and forgiveness of Jesus Christ to impact the hearts and lives of incarcerated men, women and youth, as well as their families, to become loving and productive citizens of their communities."

In addition to his faith-based deeds, Attorney Enterline is a Past Commodore of the Erie Yacht Club and is a member of the Great Lakes Cruising Club, of which he is Port Captain for Ashtabula, Ohio. He is also a Lifetime Member of the Great Lakes Singlehanded Society.

Attorney Enterline and his wife, Lauri, have four children: Jessica, James, Kristen, and Stuart.

The Erie County Bar Association is a not-for-profit professional association whose members are attorneys and judges in Erie County, Pennsylvania. The ECBA assists members in the practice of law by providing educational opportunities, programs, and services to facilitate the practice of law. The association also provides assistance to the public, particularly through its Lawyer Referral and Information Service.