News & Releases
» Golf Tournament raises $7,025 for the Erie County Bar Foundation
Posted on Friday, June 21, 2013 at 10:45 AM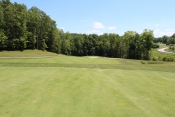 What could be better than spending a perfect sunny day on a beautiful golf course? How about raising over $7,000 for the Erie County Bar Foundation? Still not satisfied? How about a hole-in-one?!
Members of the Erie County Bar Association hit the links yesterday on the beautiful Whispering Woods Golf Course to raise money for the Erie County Bar Foundation. This year, the golf tournament raised $7,025 bringing the total amount raised from the tournament to $103,958.00! We would like to thank all of the sponsors for the tournament. 100% of your sponsorships go directly to the Chief Justice Samuel J. Roberts Scholarship Fund principal.
Also, highlighting the day, Attorney Michael Garcia shot an impressive hole-in-one on the second hole! Foreshadowing that he would win the overall low gross trophy with a score of 71! Attorney Garcia is currently clerking for the Common Pleas Court Senior Judges.
Other winners for the day include:
James F. Toohey - John E. Britton (low net)
Ray Pagliari - Will J. Schaaf Senior Trophy (low net)
Judge Cunningham, Dave Devie, Gary Nash, Ken Vasil - Scramble Team Winners
The 50/50 tickets that were sold to the entire membership, as well as non-members, totaled $1500 this year! The sale of these tickets, in conjunction with the Golf Tournament, offers a way for non-golfers and golfers alike to support the Erie County Bar Foundation. We would like to extend a very special thank you to everyone who participated. This year's winner, who walked away with $750, was Attorney Ed Niebauer!
Don't forget to check out the pictures from the tournament in the photo gallery!
Finally, 'thank you' to Rich Rocky and his helpful and accommodating staff at Whispering Woods, who made hosting our event there very easy.